Fundraising is not about making money. Fundraising is about school improvement and the opportunity to provide all students with the very BEST educational experiences.
Dear LMSS Families and Friends,
From the outside, La Crescent Montessori & STEM School is unassuming—a converted roller skating rink that appears too small to house over 100 preschool through 12th grade students.
The staff is tireless and the teachers are extraordinary. Students work together and solve problems as a community. Critical thinking is encouraged and kids are allowed to make choices within a structure where they can thrive.
Funding challenges for education are ever present, and most schools rely on fundraising to ensure their students have the best educational experiences possible. LMSS is no exception. What's more, since LMSS is a charter school, we receive less funding than traditional public schools. Our vision at La Crescent Montessori & STEM School is to develop self-assured, lifelong learners who are compassionate, globally minded, and empowered to positively impact the world. We accomplish this easily within the walls of our school with the materials and programs we already have. But we want more than that. We want to continue to bring new and innovative programming and experiences to our students and we want them out learning beyond the walls of our building.
As we enter our 20th year of operation, we are feeling a renewed sense of passion and idealism. Where is it coming from? It is coming from you! From all of the voices chiming in with excellent advice and inspiration for our school's future. Community involvement is abundant, with staff, parents, and students teaming up to organize interest in leadership and volunteering; to breathe new life into tried and true fundraisers, while launching new and innovative ones.
In addition to raising funds for our school, fundraising events serve a dual purpose as community building opportunities. We work together, have fun together, get to know one another better, and strengthen our commitment to the mission of La Crescent Montessori & STEM School by serving together.
Since LMSS first opened its doors in 1999, we have been pooling our collective resources and making amazing things happen. Let's keep the tradition alive, and keep building a better future for our children.
Collect
Box Tops for Education (General Mills)
Each box top is worth 10¢ for our school. Drop these items in the baskets on the shelf near the front door whenever it is convenient for you.
Make Your Purchases Count
Amazon Smile
Designate La Crescent Montessori & STEM School, Inc. on Amazon Smile for Amazon to donate a percentage of every purchase to our school. It's easy—once you designate LMSS, it works on you future orders automatically. Since you probably shop there anyway, LMSS might as well benefit from your purchases.
Mighty Nest
Purchase from Mighty Nest and designate La Crescent Montessori & STEM School, and MightyNest will donate 15% back to our school!
Donate
Giving
Direct giving is the most efficient method for you to positively impact our future. When you make a donation by cash or check, 100% of your dollars stay at LMSS to benefit your child. Please direct donations to: La Crescent Montessori & STEM School, 1116 South Oak St., La Crescent, MN 55947.
Wishing Tree
Stop by our Wishing Tree located in the lower level hallway! "A wish will be hung where there is a need. If you are able, please take the lead. In fulfilling the wish, you help our students succeed!"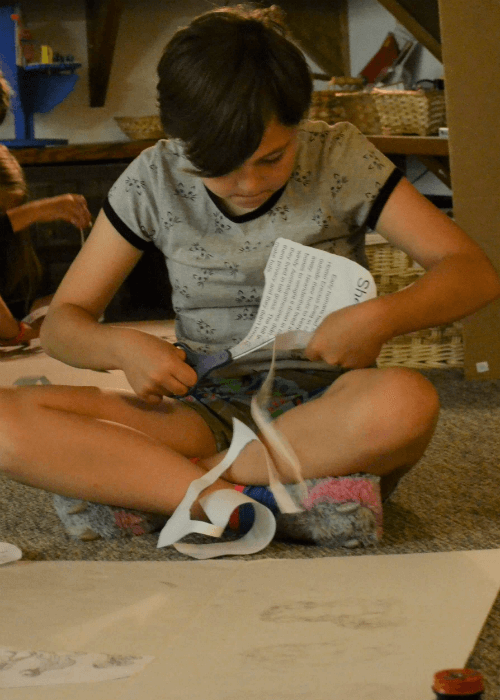 SUPPORT OUR ANNUAL FUNDRAISING EFFORTS
New to LMSS? Wondering about Coffee & Scram? Once a month, LMSS students prepare an amazing breakfast and you are invited. Families can come to school early to eat breakfast and then "Scram" at 8:00 a.m. so students can get to class. Donations for breakfast support AP youth outings and excursions.
Possible Summer Programming
Ashley for the Arts
Supports AP youth outings and excursions.

Summer Movie Nights
Supports classroom funds.
AP FUNDRAISING FOCUS AT LMSS
You may notice that many of our events and opportunities support Youth Explorations and Excursions for our Adolescent Program. I would like to explain why, as a school community, we band together to support our Adolescent Program.
At each level of our school, we build upon previous knowledge and experiences to develop self-assured, compassionate, globally minded learners who are empowered to positively impact the world. In the lower levels that means they have a lot of experiences right here in La Crescent. As our students get older, they need bigger experiences to continue to stretch themselves. That is one reason our E2 students head to camp for several days.
By the time they get to the Adolescent Program, they are ready for longer, more challenging opportunities. We have developed a six-year cycle of youth outings and excursions (YOEs) that include some amazing opportunities for our youth. Outings include yearly fall camping trips, participating in the Montessori Model United Nations, going to Nature's Classroom for a week, hiking the Superior Hiking Trail and canoeing in the Boundary Waters. Why? For many reasons. Here are just a few:
Provide opportunities to be physically active.
Help build self-confidence and self-esteem.
Learn to endure setbacks, try new (and thereby maybe a little frightening) things, and see that improvement comes when you give something another try.
Unplug from technology. When adolescents take a break from TV, cell phones, and the internet, they rediscover their creative powers and engage the real world—real people, real activities, and real emotions.
Discover and develop interests and passions by trying a variety of activities.
Provide opportunities to practice making decisions for themselves without adults guiding every move.
Further develop a close-knit community where everyone must agree to cooperate and respect each other. Students live in a cabin or tent with others, share chores, resolve disagreements, and see firsthand the importance of sincere communication. This builds teamwork, independence and interdependence.
These types of outings cost a significant amount of money, which means the whole LMSS community pitches in to help our AP students and families fundraise. Your child might be in Children's House today, but before you know it, she will be an adolescent and the LMSS community will be working to help your child have these opportunities too.
Gratefully yours,
Stephanie Wehman
Head of School